About Nizams
Hyderabad "The City Of Nizams"
Hyderabad is the capital and largest city of the South Indian state of Telangana. It was ruled by the Qutub Shahis, Mughals and the Nizams which shaped its history. The city is noted for its monuments which includes the masterpiece of Charminar and the fort of Golconda.
Nizam of Hyderabad
The Nizams were the 18th-through-20th-century rulers of Hyderabad. Nizam of Hyderabad (Niẓām ul-Mulk, also known as Asaf Jah) was the title of the monarch of the Hyderabad State. Nizam, shortened from Nizam-ul-Mulk, meaning Administrator of the Realm, was the title inherited by Asaf Jah I. He was the viceroy of the Great Mughal in the Deccan, the premier courtier in Mughal India in 1724, and the founding "Nizam of Hyderabad".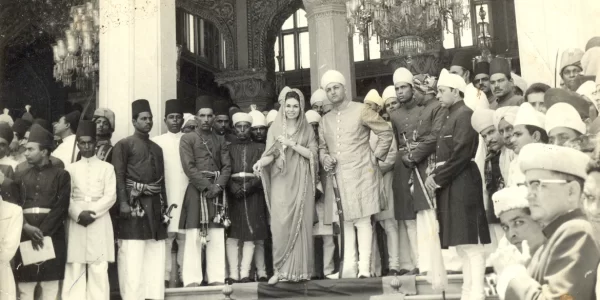 State Wealth
One example of the wealth of the Nizams are the Jewels of the Nizams, an international tourist attraction once displayed in Salar Jung Museum, but now locked in an Reserve Bank of India vault in Delhi. In 1948 Hyderabad state had an estimated population of 17 million (1.7 crore), and it generated an estimated annual revenue of £90,029,000.
The state had its own currency known as the Hyderabadi rupee, until 1951. The pace at which the last Nizam Mir Osman Ali Khan amassed wealth made him one of the world's richest men in 1937, also known for his miserliness. He was estimated to be worth ₹ 660 crores (roughly US$2 billion by the then exchange rates).
Nizam of Hyderabad Who Used Rolls Royce For Transporting Garbage
One day during his visit to London, Nawab Of Hyderabad was walking in casual dress in Bond Street. He saw a Rolls Royce showroom and went inside to inquire about the Price and Features etc. of their cars. Considering him a just another Poor Indian citizen, showroom salesmen insulted him and almost showed him the way out of the showroom.
After this insult, Nawab Of Hyderabad came back to his Hotel room and asked his servants to call the showroom that Nawab Of Hyderabad is interested in purchasing their few Cars.
After few hours Nawab reached the Rolls Royce showroom again but with his full astonishing royal manner and in his royal costume. Until he reached the showroom there was already red carpet on the floor and all the salesmen were bent with respect. The Nawab purchased all the six cars that they had at showroom at that time and paid full amount with delivery costs.
After reaching India, Nawab ordered municipal department to use all those six Rolls Royce cars for cleaning and transporting city's waste. World's number one Rolls Royce cars were being used for transportation of City's waste, the news spread all over the world rapidly and the reputation of Rolls Royce Company was in drains.